This week's picture was submitted to me by my good friend Bethany. I met Bethany my freshmen year of college. We had lots of fun playing Yahtzee late into the night and would scream any time we got a Yahtzee-the girls on the floor loved us I am sure. I even was a part of her wedding and now many years later she has three adorable kids, including the cute little guy in today's picture.
She likes this picture and has been meaning to get it hung, but was hoping for that little extra punch to make it that much more special. For all of today's edits, I used Adobe Lightroom.
There are a lot of great presets for Lightroom available. Presets are one click actions that can take a picture from color to black and white or to a sepia or even a bright pop look. And the best part is there are a lot of great
free
presets out there. If you have Lightroom you should definitely go to Pretty Presets web site
http://prettypresets.com
. They have some of my favorite presets and they often have free ones, espeically if you are a Facebook fan. Also, make sure you check out Matt's Killer Lightroom Tips, found
here
. He talks about how to use Lightroom and has lists of the free presets available.
I must apologize, Lightroom is the editing software I mostly use for my photography business and so I use it a lot. And well I tend to just jump in there and do a lot of little things without really paying attention to what I am doing, so I will try to explain what I did with this picture.
Here is the original and my fixes.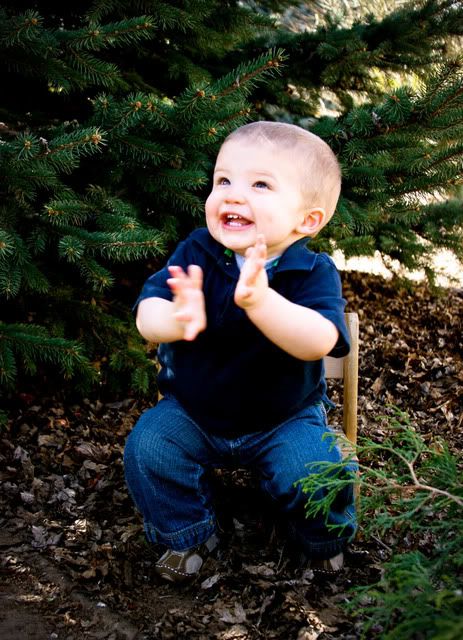 This was really already a super cute picture to begin with, so why alter something that is already cute? Yes, his hand is unfortunately blurry, but that would be nearly impossible to fix, without another similar image to
steal
his hand from.
I cropped the image just a tiny bit, the scenery is so great so it is worth seeing but he does get lost in it a bit. I then bumped up the exposure a bit.
If you know you want an image cropped-it is best to crop it before adjusting exposure, etc as you may crop out bright or dark spots that will change the overall exposure and look of the picture.
I then used the paintbrush tool with a "Wow Eyes Sharpen" tool. I am almost positive I found this tool though Matt's Killer Lightroom Tips. I increased the black clipping, the clarity and vibrance.
I set the Tone Curve to Medium contrast. I have found this gives the colors an extra pop and often more definition. I then ran another preset I love called "Seim Fix the Flat".
This might all seem confusing and you might have no idea what I am talking about.. but the point is, to feel free to mess around with the different settings and different presets, with time you will learn what you like and what works and it will become second nature.
And just for fun here is the image in Black and White.
Next week I am going to save another really dark image for a friend. Also, if anyone is interested, I could make a video with screen shots showing how I edit a picture. If anyone is interested just let me know-and let me know what program you use and would like to see me use.