Well this posting a bit late but all of the snow delayed me.... sorry bad joke. I did grow up in the Midwest though and seeing all of my FB friends pictures seriously made me expect to see snow out of my window this morning.
The picture I was asked to fix today is one that is very special to this couple and well I will just let her tell you why.
It turned out super dark and normally I would just say oh well, except that this picture and pose look almost exactly like a picture we took moments after we got engaged. From the Christmas tree, to the pose, to the colors we're wearing, it's almost like the same picture just flash forward 6 years. So I'd love to put them in a frame together.
So after reading that, of course I wanted to help! I decided that I would just try and fix the color and exposure as much as possible without giving it a totally different look so it could match the first picture better.

So the first is the picture Mary sent me and the second is with my fixes.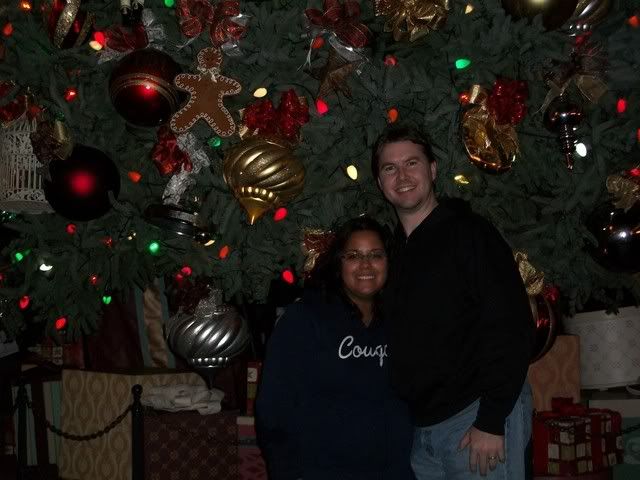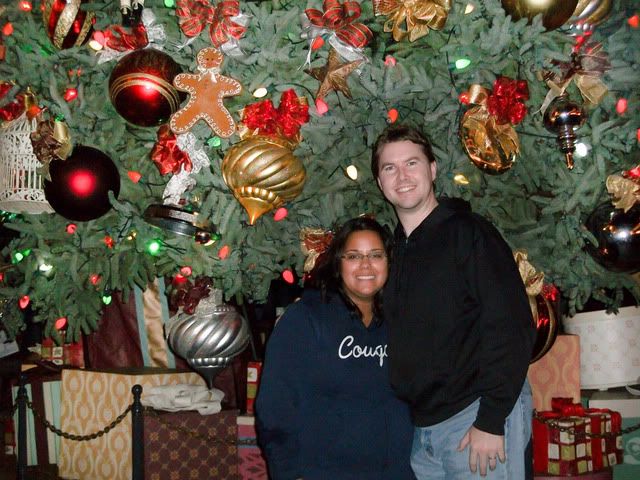 I used Lightroom again for these edits. When I first started working on the picture, I simply tried just bumping up the exposure and brightness, but that led to the faces just looking all weird and the colors weren't quite right.

So I first added more fill light (+26)- the fill light is the background light. And then increased the exposure by +.25. After adding more light, the picture started to look really grainy or had a lot of noise. So I went to the Noise Reduction area and added luminance smoothing and detail, but I also sharpened the picture a bit at the same time. I then went in and brushed in some more exposure to their faces only. I sharpened the eyes with the Wow Eyes sharpen brush, and got rid of the glasses glare with the clone brush. And finally did a preset I love WOW b-Auto-Tone+Crv 04.

So all of that summed up in English.. sometimes with dark pictures, you simply can't just increase the exposure or brightness, but might have to do it in selective areas. Also, as you increase the brightness and exposure you are going to get a lot of noise or grain in the picture--so try your best to get the right exposure out of camera as it makes your life easier.

As always, if you would like me to fix up a picture or if you have a picture you love but want it to be black and white or an antique look or some other look email me the picture at fix (at) emmymom2 (dot) com

And Mary-I will email you the fixed picture.